During periods of high stress or in case of speed, the thyroid can play tricks. This is where the Ê-SENSES Lac remedy fulfills its role by acting as a thyroid hormone regulator. The Corsican myrtle, purifying by nature, helps to free you dependencies. The aromatic ravensara restores dynamism, in the event of a blow of fatigue. It soothes the emotional tensions born in periods of anxiety. The small grain calms spasms and resolves the blockages and tensions that develop in your body.
You are passionate, creative and happy at the same time. This hypersensitivity allows you to move mountains. But, you also tend to perform your actions in a hurry, which creates pressure shots that affect your body. The Ê-SENSES remedy, in the form of fluid, comes to the rescue to unblock the tensions that are concentrated on your neck, neck and shoulders.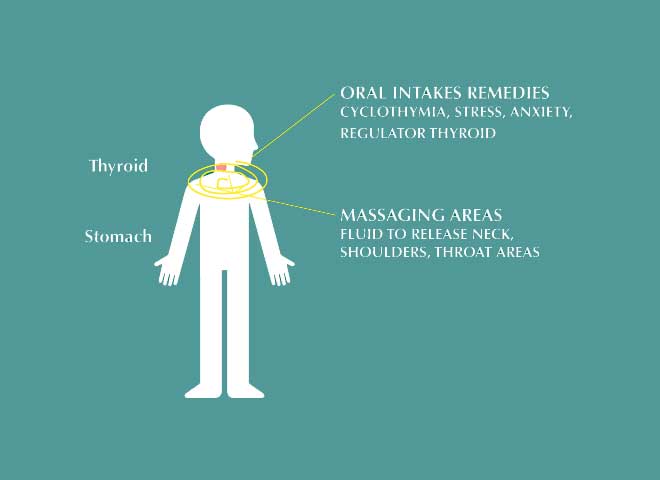 Uttana Shishosana – 5 min in the posture
Neck and shoulder pain relief
Shoulders will make you more
flexible and relieve tension.
DOSAGE:
21-day cure every change of season.
Ê-SENSE 1 capsule during meals.
Or 4 Capsules 2 morning & 2 evening if you are sick or after indigestion.
MERIDIANS & ORGANS:
Stomach – Gallbladder – Endocrine pancreas
PREFERRED FOODS FOR MAXIMUM VITALITY
"Let your food be your medicine" – Hippocrates
Type of foods:
– Mildly warm
Flavour:
– Sweet and sour
Your personalized products:
Remedy fluid
The Fluid body care to use every day on your body, hair, bath… This way you will benefit of the power of the plant recognized by your cells and distributed directly through your blood.
Remedy cure
For a more comprehensive cure, inter seasonal should consider further recommendations such as preferred food and activities. But designed to restore, drain or balance your internal system
Auratic Spray
Personalized auratic spray blend with your synergy essential oils to use like a confidence perfume:
On your face, pillow….