Breath is at the heart of your senses. It contributes to your inner well-being but remains fragile in the face of external aggressions. The Ê-SENSES remedy Wind encourages the letting go and the moments of meditation inside. Expectorant and anti-infectious, eucalyptus globulus decongests by providing a feeling of total respiration, by opening the bronchi. Eucalyptus staigeriana relaxes your pscycho-emotional soul by relaxing you deeply and removing anxiety and nervousness. Cardamom calms spasms and resolves the blockages and tensions that are created in your body.
You are free and engaged by nature. Your selflessness drives you to be helpful to others and to accomplish beautiful things. This can lead to feelings of oppression with breathing difficulties. The lungs are energetic online with the intestines. To combat these intestinal imbalances, the Fluid Wind brings you a new breath by giving air to your mind. Massage your intestines and solar plexus directly to let the oils in your blood.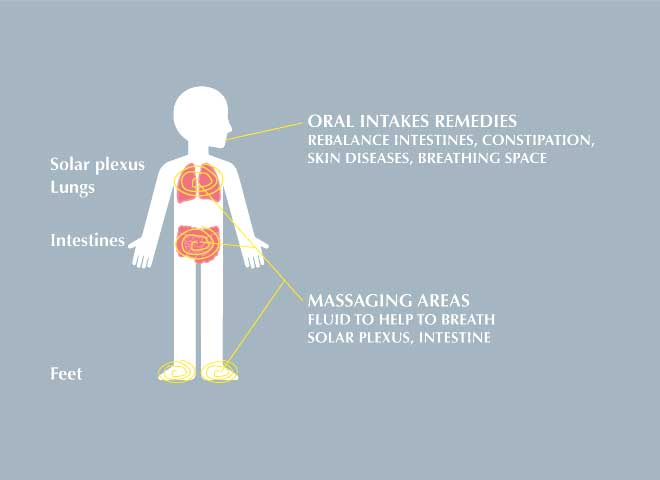 Supta Matsyendrasana – 5 min in the posture
Stimulates the functioning of the digestive system,
the blood circulation by sending
new blood into the organs.
Pressure / compression repetition also helps in transit…
DOSAGE:
21-day cure every change of season.
Ê-SENSE 1 capsule during meals.
Or 4 Capsules 2 morning & 2 evening if you are sick or after indigestion.
MERIDIANS & ORGANS:
Lungs – Intestine
PREFERRED FOODS FOR MAXIMUM VITALITY
"Let your food be your medicine" – Hippocrates
Type of foods:
– Spicy
Flavour:
– Warm and crunchy
Your personalized products:
Remedy fluid
The Fluid body care to use every day on your body, hair, bath… This way you will benefit of the power of the plant recognized by your cells and distributed directly through your blood.
Remedy cure
For a more comprehensive cure, inter seasonal should consider further recommendations such as preferred food and activities. But designed to restore, drain or balance your internal system
Auratic Spray
Personalized auratic spray blend with your synergy essential oils to use like a confidence perfume:
On your face, pillow….